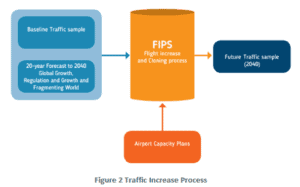 This document aims to develop highly detailed low-level results on the present and future of the mobility of passengers in Europe based on flight and passenger metrics.
The purpose of this deliverable is to describe the methodology designed and developed to translate the output results of the modal choice model into individual passenger itineraries that are going to be used by the mobility models.
The aim is twofold:
Individual flight data need to be assigned to the schedules generated as an outcome of the modal choice model. Then, the supply and demand flow scenarios of the modal choice model are to be translated into actual passenger itineraries.
The itineraries need to be standardised to different formats, to be used by the rest of the models used in Modus (Mercury – airside and landside model, as well as RNEST) tailoring the data to their input needs. Moreover, other data needs are discussed for the successful upgrade of these models.
Additionally, its outline so-far identified data requirements and processing needs to create valid input for the rest of the models developed in Modus: flight-centred airside model RNEST, passenger-centric airside model Mercury, and the landside model (i.e. door-to-door model).